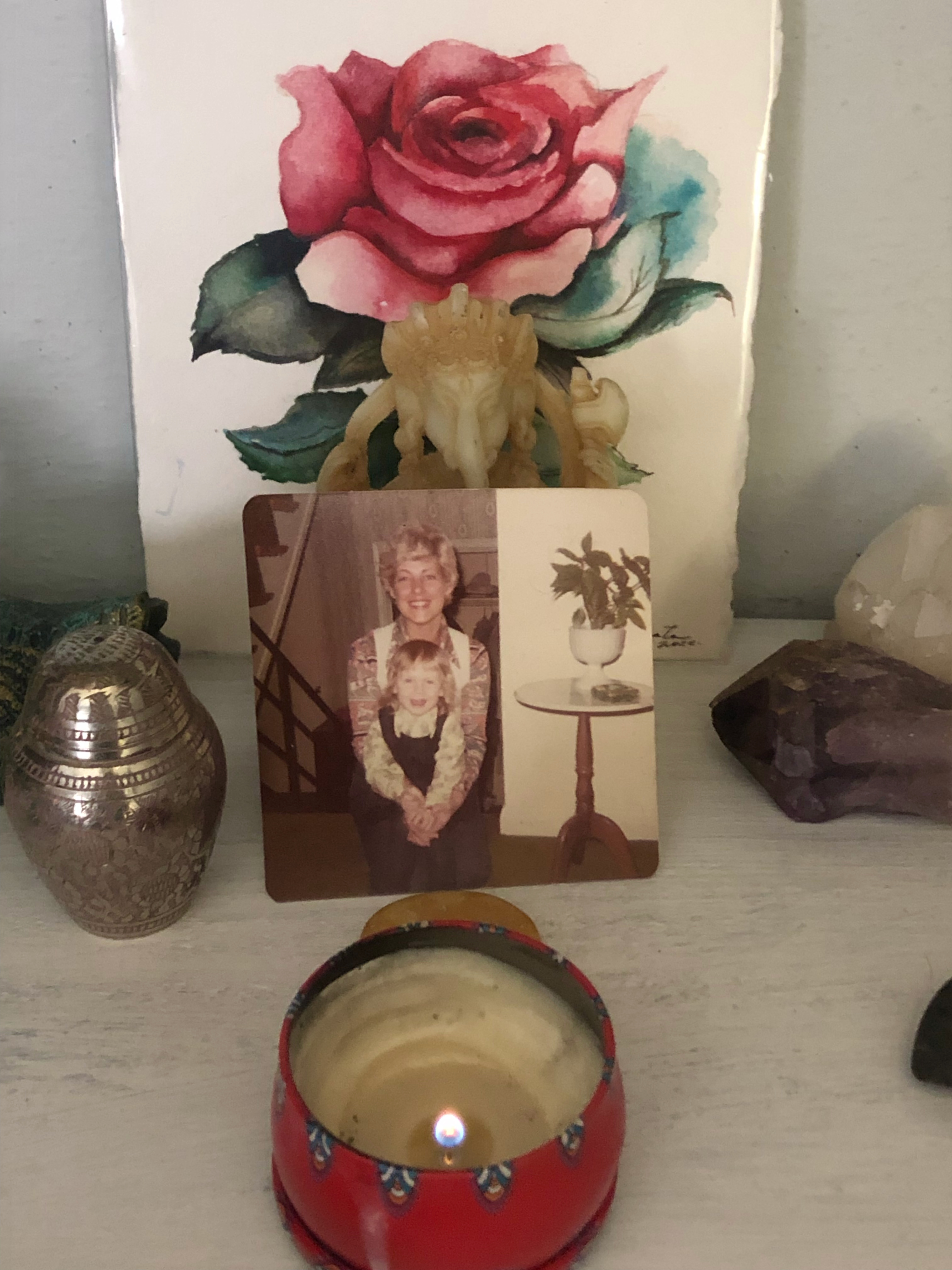 Mum on my altar (her ashes to the left, which I constantly smuggle back and forth in my carry-on bag)

Happy Halloween...Samhain...All Saints Day....and all that jazz. I'm here in the midst of el Dia de los Muertos (Day of the Dead) celebrations and festivities in the heart of Mexico. I remember when I heard those words as a kid, I thought it sounded pretty morbid and dark. The origins of pagan Samhain was a way for people to get dressed in disguise as a way to hide from ghosts. As a tween, I didn't think much about ghosts, spirits or ancestors. I much rather would have walked the neighbourhoods at night, dressed up like a punk rocker, searching out free candy. All that sugar was such a perfect way for me to self-soothe any grief I may have had, and the punk rock personal allowed me to express anger and rage that in the "normal" world, I couldn't really do.  
Later in life, after Mum died (about 18 years ago) I recognized the importance of grieving: fully. Thankfully I was in the progressive little town of Nelson BC where they had a grief support group, that helped me to recognize and realize the aspects of myself that truly needed to grieve. It didn't mean that I had to be "stuck" in it and "wallow" (although sometimes it felt like I did), but rather that I needed to feel everything fully (the loss, the fear, the disappointment) in order to step into the Light and the joy of living once again. The two facilitators were such beautiful space holders, that they encouraged me to follow their path and become a grief support counsellor when I moved back to Toronto. And so, I trained with Bereaved Families of Ontario and briefly held space for children who had lost their parents or siblings, and saw how valuable it is to have these spaces and discussions surrounding dying.
Today, when I hear "The Day of the Dead," I embrace it fully, and no longer recoil in fear.  Reverence for all of my ancestors has become a part of my daily prayer and practice. Here in Mexico the streets are adorned with vibrant colour of flowers, altars, ribbons, crowns and skeletons (the iconic "La Catrina"). What moves me most is the personal altars people create for their loved ones who have passed. I started to create my own altars years ago after seeing this beautiful honouring practice. And so, Mum, Nanny and Nana sit upon my altar, where they are offered their favourite foods, predominantly sweets. Nana loved her chocolate covered ginger and Quality Street caramels. That woman detested vegetables, never exercised, barely drank water and lived until she was 100. My Nanny also lived until well into her 90s and drove herself to the hospital the day of her procedure, after going to the hairdressers; she wanted to look good if she was on her way out. She was truly classy. And such resilience. I feel like I've inherited some of those genes, and thank the matriarchal lineage of my ancestors regularly.
I find the past few days the grief is more present, as it comes and goes in waves. As I purchase home decor items to adorn my new home here, I miss Mum. She loved shopping, had great taste, and loved to find great bargains. And so, my heart feels heavy. I see families strolling in the park, and find myself a bit melancholy when I see the abuelas (grandmothers) being supported by their families as they hobble around, and watch their eyes shine as they watch their grandchildren playing. My choice to not have children comes with its own grief, although not regret as I realize they can both exist at the same time. Will I be an ancestor? I believe I will be, both here and in other realms as I do my best to "mother" my creative projects, be an empathetic ear and deep listener with my clients and kin and leave a legacy of love through my words and music. This helps to allow the grief to flow through me; I don't repress it or try and get rid of it. I feel it deeply and express it in whatever way it wants to emerge (dance, yelling in my car, crying on the couch, singing in prayer) and am open to what's on the other side, which is usually peace and joy. And isn't that why we're all here? To express all of these profound emotions?  
My invitation is for us all to honour and revere our ancestry, and pay homage to the world of spirits, not just today, but as a regular practice, even though it may be fraught with trauma and pain. I believe that we are all here doing our best, as were they, and we may not know all of the challenges and stories they navigated. And we can transmute this trauma when we ourselves rise in Love and carry forth a new story and legacy of forgiveness, optimism and Light. Aho. 

**Please enjoy the accompanying track, "From Where I Stand" honouring Mum and her eternal spirit**