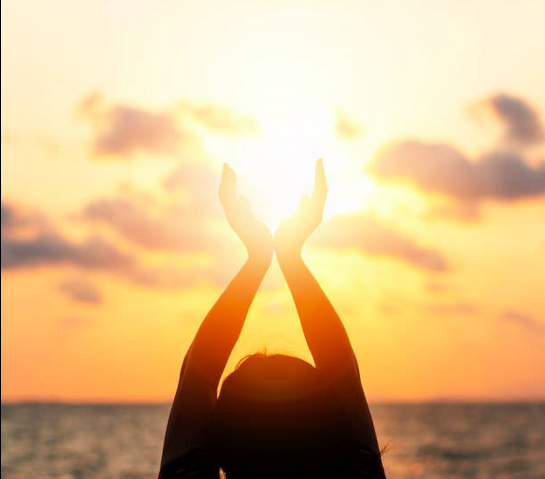 "I Am Light" 
-India Arie
 
They say that if you don't use it, you lose it. Language, muscle tone, writing and creating skills, memory and the mind. My writing feels rusty. My voice (both literal and symbolic) feels underused and quiet these days. My mind feels a bit foggy as I find myself entering the mysterious world of induced peri-menopause. For those of you who don't know, I had a hysterectomy at the end of January: Funny, as I write that now, I see the prefix of the word "hyster" as in "hysterical", which I am definitely having moments of as my emotions swirl and twirl. Not so funny that in the past this adjective was relegated primarily to the female sex; the notion of "crazy" or "out of control" related to our anatomy. I'm trying to find the funny-ness again in each moment whereby I forget what I was saying or doing. When I arrive home from the the small village store, knowing I've forgotten something. I'll rack my brain going over my plantain chips, coconut milk and then realize that the missing link is actually Zafi (my pooch) who's still tied up to tree outside the store. Now that shit's funny.
Thanks to my Buddhist teachings, I'm able (somewhat!) to try to remain an observer, and to not get too caught up in the thoughts, or create a story or narrative about what my lashing out at the cashier really means. I will say, I've had to apologize a few times to various people who although invariably have screwed up somehow, did not deserve my outright rage. I left a message for a receptionist last week that just read, "Sorry about my harsh tone. Menopause and mood. It's real." She (being much older than myself) replied with an understanding, "I get it."
It feels like it's been so long since I've written anything. My monthly blogs have evaporated into the ethers it seems, as I've been trying to just stay present to what each day brings. I'm trying not to berate myself for not using my convalescence in a more "productive" way. I've had thoughts like, "Look what Frieda (Kahlo, of course) did all that time she was in her bed! I mean, she did have to contend with the rage that her husband was shagging her sister, so she may have had more cathartic trauma to process. I processed my trauma by getting drawn into Outlander and read/listened to books. Not so productive.  I have to trust that during that time of supporting Netflix, Kindle and Audible, SOMETHING has been percolating. SOMETHING creative. I've eschewed the Puritan ethic long ago about having to be busy, and to work hard all the time, but sometimes, those deeply ingrained values sneak back and whisper, "Why aren't you doing more? Why aren't you writing more songs? Launching your songwriter course?"
The truth is, I just didn't feel like it. I felt like immersing myself in someone else's story. As a way to distract myself from the pain? Perhaps. But more, to inspire me with my own journey and to help me create what comes next (aka: calling in my very own "Jamie" pronto!) in the near future.
I also did some deep inner work before and after the surgery (and continue to do so) with regards to my womb space and my ancestors. I had a feeling like a lot of the pain and issues I've been facing over the years were related to my matriarchal lineage, specifically my mum and my nana. Considering the (fascinating!) scientific fact that we are actually already in our mothers' wombs when they are conceived, this really makes sense to me. And so, I worked on a lot of forgiveness for both of them (forgiving men, forgiving themselves) and this helped my healing immensely. I used obsidian (a powerful clearing and cleansing stone) on my belly before the surgery to energetically clear the space. When the day rolled around to head to the hospital in Punta Mita, I was truly ready.
My friends and soul sisters showed up for me in such a beautiful way, and I also learned how to ask for what I need. As a caregiver and nurturer, it's really easy for me to take care of others, but to receive care myself? Sometimes, it wasn't that easy. This time around however, I was clear about the fact I needed some help. I created a WhatsApp group called, "Zarah's Angels" whereby each woman that expressed she wanted to help could communicate. This was so helpful with taking care of Zafi while I was away and right out of the surgery, preparing meals, helping me clean, shop etc. etc. Truly, it was smooth. My Dad came down to visit too, and helped with household chores like watering plants and doing dishes. My sister visited and treated me to massage and great food. Immense gratitude for all the support I received. I'm writing a "How to Sail through a Hysterectomy" manifesto whereby I'll be giving tips about spiritual preparation, physical support, self-care, and post-op insights, that the doctors never told me about, with the intention to help others go through the process.
Hmmm. So, yeah, I guess I was creating something while I was lying in my bed and couch for weeks. Just realizing this now. The power of writing truly is amazing. I'm dusting off my journals and scraping the rust off my pens and pencils.  It's May. I hear the birds singing and feel the change in season. Even in Mexico. It's getting hotter and there's more life happening with trees and flowers. Nature is singing. So am I. Emerging from the cocoon of healing and winter, I enter this season lighter (in many ways; the uterus and ovary probably weighed about 2 pounds) with a sense of optimism. There's a power that comes from periods of not doing. I feel myself alive. More light. I am light. Wow. I vow to take more of these moments:
Do you, Zarah, promise to take more times of not doing to support your mental and physical well-being? 

I do.