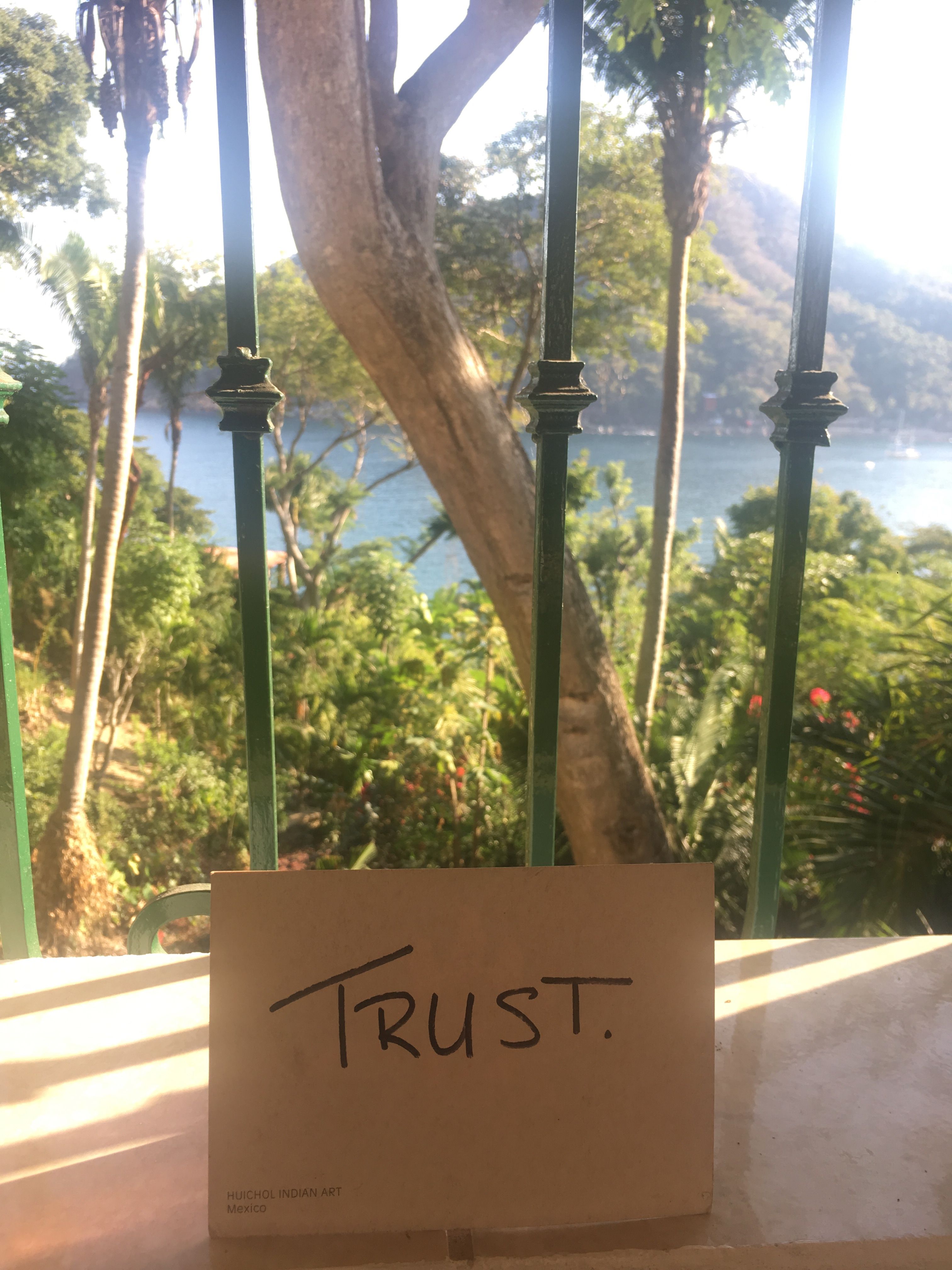 View from my bed here in Yelapa.
Trust. One would think that this is a relatively easy emotion/way of being for me, looking at my way of being, where my life has taken me, and all of the spiritual practices I delve into. Sometimes it is easy, when I'm in flow and things are rockin' and I'm feeling good. Other times (more than I'd care to admit), not so much. Last week was one of those times. 
As some of you know, Costa Rica has been my home base for almost a year now, and to NOT travel, and to NOT be on a plane for a year is actually quite unprecedented. This hasn't happened since grade ten. I've loved it. The feeling of rooting into one place, being able to say "yes" to events that are happening a couple of months away, and knowing I'll be there to attend. It's been amazing.  True to form, the gypsy soul began to sing and sigh in late November, urging me to move a bit, and so I travelled to the Pacific beach town of Santa Teresa and then the central mountainous region of Chirippo to shift it up. I landed in great places, met great people, did some offerings, and continued to heal deeply, all because I was in a state of trusting in the unknown, and trusting that the universe continues to support me. I was fully in the flow. 
Fast forward to a couple of weeks ago, and I had to make a decision about more travel, when my heart actually just wanted to stay in Costa Rica. We tourists have been lucky that for the past year, the need to leave the country to do a visa run every three months was pushed ahead...several times. Thus, I haven't had to leave. This changed and we were told that we had to leave before March 2nd, and were allowed to re-enter after this. For some reason, this put me in a state of stress. First off, the thought of travelling and being in airports wearing a mask and being around a lot of other people wasn't exactly enticing. My other concern was that I'm not exactly travelling "light" right now, and am travelling with a gong and a shitload of supplements that friends from Canada brought down. In addition, the burning question was, "WHERE to go?" For many of you in Canada who would relish the opportunity to travel, particularly in Central America, I know this may sound trite. That being said, I kind of freaked out. I wanted to go to Nicaragua, but the land borders to return were closed, which meant an expensive 23-hour trip stopping in Miami, which didn't really feel good. And so, I decided on Mexico because the flight route was easy, cheap, and Mexico does not require a Co-vid test. 
Right up until the last minute I was in a state of fight-or-flight about my decision. It's weird, but for some reason when it comes to travel, I get stressed and question my ability to make a right choice with flights, times, places to stay. It's like a dentist who is afraid of teeth. I'm a traveller afraid of travel. I've been looking at this (with the help of a friend who sees my patterns) and see that it comes down to a lack of trust in myself. When I look further, it means I have a lack of trust in the universe and in Spirit. This isn't great. It has caused me a lot of suffering in my life, and I'm ready to shift it. Now. 
Early this month, I spent an amazing two weeks at Posada Natura near Manuel Antonio with a group of awesome light-workers from Toronto, and their energy was contagious. With their help, I was ready to dive back into Trust again. Being with a group of like-minded community really helped me to move through my blocks and fears. A reminder that I don't need to do this all on my own, and that my Lone Wolverine days are finito. As Spirit would have it, once I made my plan to travel to Mexico for my visa run, and committed to trusting that it was the "right" one, it was smooth sailing from the get-go. 
My friend Jesse dropped me off at Brigitte and Freddy's place(friends from the Kootenays) in Esterillos just outside of Jaco...door to door service. I spent a couple of days with them reconnecting, doing yoga, being on the beach, deep stimulating conversations, eating good food and enjoying each others' company, which I know is a rarity for many people right now, who are confined to one or two people. My friend Karen (also from Canada) drove me to San Jose the day of my flight, whereby I stayed at my friend Janine's place for the day to do some city things and store some of my "stuff". My fear of schlepping all my stuff and arduous travel had dispersed, and as a result, my travels were super smooth and actually enjoyable. I did have a minor panic before I headed to the airport. The Uber that I pre-ordered didn't show because of the driving restrictions in San Jose. As the fight or flight started to kick in and my mind flashed forward to no cabs being available at midnight, missing my flight, dealing with airlines etc. I stopped myself and said, "No, this is not how it's going to be. My day has been WAY too smooth to have this happen" and I calmly googled a cab company in my friend's neighbourhood, made a call, and the dude happened to be a five minute drive away. He whisked me to the airport, no problems, no being late. Easy peasy. 
When I arrived at the airport in Puerta Vallarta, my dear friend of 20 years Tisana was there, with her beau to greet me. This rarely happens in my life where I'm actually met at an airport. They helped me with my stuff, and we had a smooth day of enjoying fish tacos, art galleries, then catching a ferry to Yelapa, where I am now. Smooth. Easy. In flow. 
My place here is stellar. It's a huge new beautiful house that I'm renting a room in for super cheap due to the fact that no one is coming here. Also a good thing. It's really quiet and calm. There's only one other woman who is in it (sometimes) and she's awesome. It's right beside Tisana's house so we are getting a chance to catch up and spend time together after a three-year hiatus of not seeing one another. There are musicians who live next door and we've already jammed and performed a bit. The drummer is a pro with Ableton and has offered to help me get my new MIDI controller set up to create new  music. There is an amazing group of women here and we're doing a boat trip to a local beach on Friday. There is dance. There is a sweat lodge each week. There is live music. There is yoga. There are no cars here and I walk around barefoot. A woman at the local bakery is making me gluten-free and dairy-free treats upon my request. I'm not saying this to gloat by any means. My intention is to show how when I place trust in myself, I say to the Universe that I trust her as well, and she provides. Big time. By dispelling my fear, I see that whatever decision I make, I can trust that all will be well. Had I chosen Nicaragua, that would have been amazing as well. It doesn't matter so much where I am and what I choose, it's the fact that I trust in the unknown, KNOWING that I am supported by Spirit always. It's my invitation for us all to put our energy into trust, despite the chaos and the unknown. Trust and gratitude in and you all. Gracias, gracias, gracias.