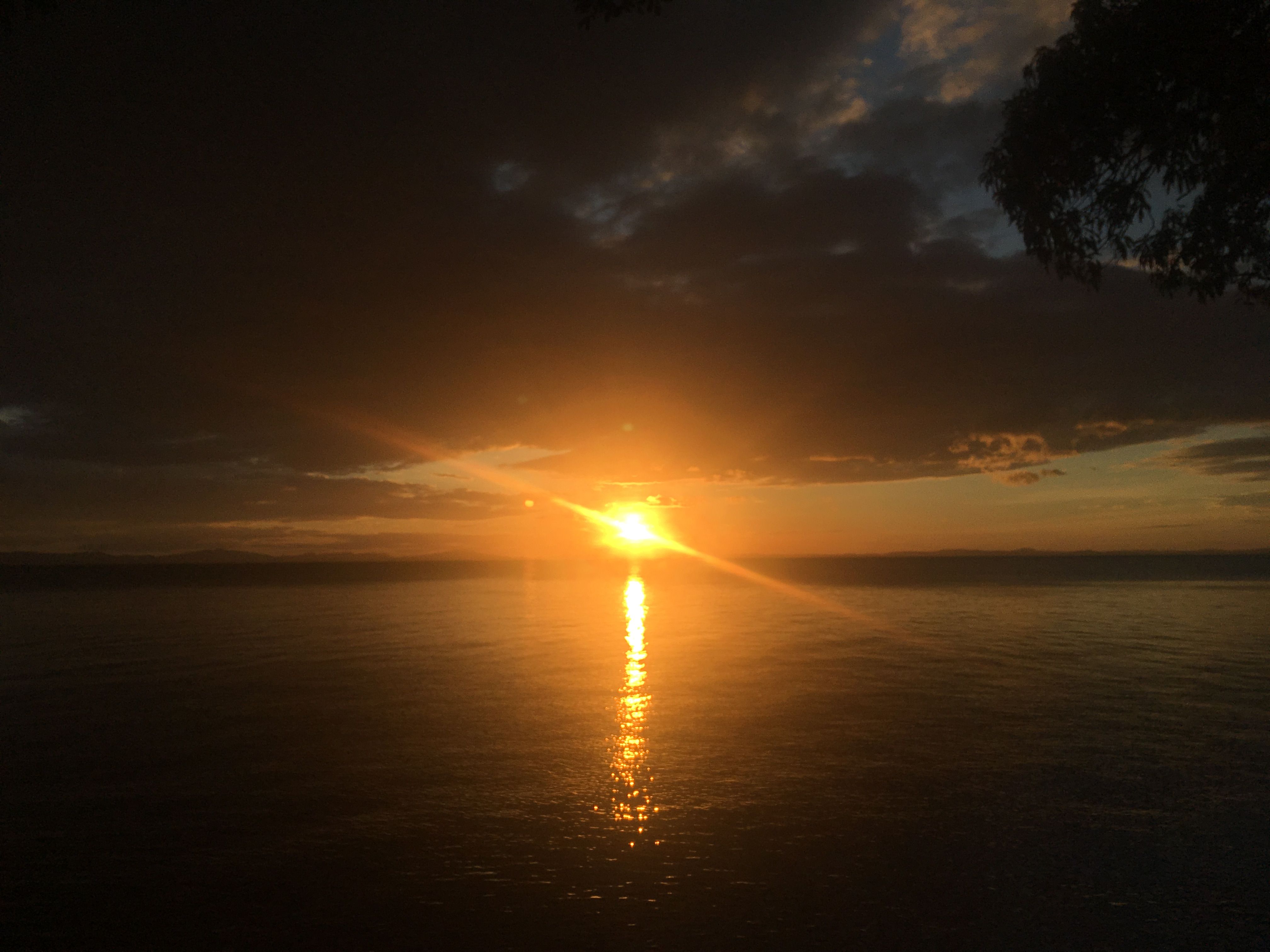 "Day is done, gone the sun, from the lakes, from the hills, from the skies...God is nigh." Most evenings at dusk I sit on my porch and sing this song, watching the sun sink into Lake Cocibolca's horizon here on Ometepe Island in Nicaragua. With every unique sunset in its intricacies of colours and patterns, I do feel that "God is nigh" or that Spirit is near.  Often, as I wake up to birdsong and see the sun rising over the volcano behind my home I'll belt out, "Oh what a beautiful morning! Oh what a beautiful day!" Last week I was chiming "Feliz Navidad" like nobody's biz, to all the neighbours, recounting those August 25th mornings when Joe Vetro (the hunk we all adored at girl's camp) would walk around the junior section with his guitar serenading us. Clearly, Kitchi has left its imprint upon me, and the music that I experienced at camp has shaped who I am today, and how I live my life.  
For me, music is associated deeply with ritual, and as a spiritual teacher and musician, this notion of ritual and music go hand in hand. When I lead my retreats, we always gather in the morning to do some sort of meditation or yogic practice to start the day mindfully, which is reminiscent of "morning thought" at flagpole. Before we eat, we gather around the food and sing songs of gratitude and thanks, a practice instilled at camp of course. We often have a night of devotional music and reflection, a ritual I revered every Sunday at chapel. On the last night of my retreats, we sit around a campfire singing traditional tunes. It's a way to unite people, despite race, colour, creed and religion. Campfires for me are now seen as an informal "ceremony," and I've already had a couple here at my place in Nicaragua. My experiences with various ceremonies in Peru all incorporated some sort of music, whether it be shamanic drumming or singing. In India, many of the practices that resonated the most involved some sort of chanting and music. Music and sound has been the vehicle to help take me into an altered state. A place where I am most in touch with the universe, and most importantly, with myself. When I attended my first Kundalini Yoga class twenty years ago the class finished with a chant that left me in tears. I wasn't consciously sad at the time; I'd just spent a killer day at the local ski hill. However, that music moved something in me that allowed me to have a cathartic experience, getting rid of subconscious garbage I'd been unknowingly carrying around. It changed my life. Singing and swaying in a group of people, tears streaming down my cheeks, I think back to that first class, and am reminded about other times like this: closing campfires at Kitchi.  
Here's where the whole "Everyday people just don't understand" theme really comes into play. Gary Bard so eloquently summed up our experiences in his song, in a way that is simple, and yet profound. I'd tell my friends at home about closing campfire, one of my favourite (albeit bitter-sweet) happenings at camp, and they'd be confused, "Um, okay, so you all just sit around a fire and sing and cry? That's weird." But we know that to be amongst like-minded souls with a love for Kitchi and its values, and to be open and vulnerable with each other through our tears at a young age was so rich and healing. I believe it set us up to be more reflective, to celebrate friendships and to be empathetic compassionate human beings. Those campfire songs told the stories of our lives. Carole King's You've Got a Friend solidified friendships in a way that we didn't need to have a conversation; singing and swaying together was enough. I still call on Kitchi friends today when I'm "down and troubled". James Taylor's Fire and Rain inspired us to believe that indeed, we would see each other again. I can still hear Sarah Hill's sweet voice coming in on verse two. When I close my eyes around a campfire today, I can hear Graham Weber strumming Blue Rodeo's Lost Together. That music became a fabric, weaved by so many voices and memories, and I take that with me wherever I go in the world.  
And so, as a songwriter today, those songs from the heart informed the way I write. I allow myself to become vulnerable and to write as honestly as I can, knowing that my experiences, although unique to me, are actually universal: love, loss, experience, learning, growing. This is the human experience. I'm currently working on a musical theatre project, a "spiritual musical" if you will. Our morning anthem Oh What a Beautiful Morning from Rogers and Hammerstein's Oklahoma set the tone for having a positive outlook and appreciating the day. It's my hope that through music, I can convey much of what I've learned, from Kitchi and my journey, to encourage more kindness, compassion and love in this world.